The need is still here… And so are we.
The Santa Fe Recovery Center is continuing to provide the quality substance abuse treatment services that are so desperately needed in our community. But we need your help.
With the current health crisis, we've been quickly adapting in order to keep all of our staff and patients safe. While some new procedures are in place, some things, like the need for our vital services, continue.
We still count on you for financial assistance that will allow us to support and retain our trained staff. We also depend on your donations so we can carry on providing high quality services for both men and women in our community. Please donate today.
If anything, the need for our services will increase at the end of this COVID-19 crisis as the trauma of this pandemic will trigger drug and alcohol abuse as a coping mechanism for many people. That's why we're taking part in the global #GivingTuesdayNow event on May 5.
 #GivingTuesdayNow is an opportunity for people around the world to stand together in unity–to use their individual power of generosity to remain connected and heal.
Please join us and make a donation today. No donation is too small to make a difference.
Why I continue to do this work
Our work continues on, even in the time of the COVID-19 pandemic. We asked our staff to tell us why they believe so strongly in the work they do at Santa Fe Recovery Center. Here are a few of their answers.
"Every day I am able to plant seeds and watch them grow. Every day is a new beginning." – Larry B.
"Here there are no failures, instead endless chances to keep coming back for hope and inspiration with like minded individuals." – Lisa A.
"Each time I help someone, it helps me!" – Mark S.
"Because at the end of the day. I know I made a change to someone, somewhere, somehow." – Jacob G.
"I continue to do this work because it has saved those I love and will be there for those that are loved." – Lisa H.
"I got into this work because I felt that if I did something meaningful with my life, I would feel more fulfilled. And while that is true, and has always been true for me and this work, what I have also found to be true is that on a daily basis I am inspired, humbled, bolstered, touched, and uplifted by the clients we serve and the co-workers, board members, funders, and community of people who also choose to do this work. It means I am surrounded daily with joy, hope, passion, loyalty, sacrifice, and commitment. Who wouldn't want more of that?"
Sylvia Barela
Chief Executive Officer
Please make a donation today.
Fully Accredited Alcohol and Drug Treatment Program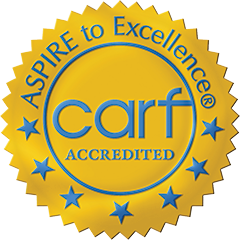 Our CARF (Commission for the Accreditation of Rehabilitation Facilities) accredited treatment programs blend the traditional 12-step philosophy with current state of the art, empirically based treatment practices. Clients experience how the stigma of addiction and mental illness can be overcome through compassionate and cooperative care provided by our community and staff.
*SFRC uses the American Society of Addiction Medicine (ASAM) criteria and the Bio-Psychosocial Model for assessments and programmatic development.
* ASAM criteria consider several different dimensions in the client's life from substance use, mental health conditions, medical conditions, and access to a safe stable living environment. The Bio-Psychosocial Model is a broad view that attributes disease outcome to the intricate, variable interaction of biological factors, psychological factors, and social factors.
Santa Fe Recovery Center services are provided without discrimination due to race, color, sex, age, national origin, disability, religious belief, gender identity, sexual orientation, political affiliation, or inability to pay. Sliding fee discounts for essential services are offered based on family size and income.
---

Los servicios de Santa Fe Recovery Center se brindan sin discriminación por motivos de raza, color, sexo, edad, nacionalidad, discapacidad, creencias religiosas, identidad de género, orientación sexual, afiliación política o incapacidad de pago. Descuentos para los servicios esenciales son ofrecidos dependiendo de tamaño de la familia y de los ingresos.