Four Corners Detox Recovery Center
Four Corners Detox Recovery Center is a clinically managed residential withdrawal management program located in Gallup, New Mexico.
Four Corners Detox Recovery Center is now open!
2105 Hasler Valley Rd, Gallup, NM 87301
Phone: (505) 413-3447
Fax: (505) 808-4929
Program Description for Four Corners Detox Recovery Center – Gallup, NM
Four Corners Detox Recovery Center in Gallup, NM is now open!  The facility provides a medical detoxification withdrawal management program that is a time-limited program designed to assist the persons served with the physiological and physiological effects of acute withdrawal from alcohol and other drugs.
Based on current best practices in the field, the programs' purpose is to provide a medically safe, professional and supportive withdrawal experience for the persons served while preparing, encouraging and motivating them to continue treatment after discharge from the program and progress toward a full and complete recovery.  The program is staffed to ensure adequate biomedical and psychosocial assessment, observation and care, and referrals to meet the individuals needs of the person served.  We offer a distinct program that provides culturally and linguistically appropriate services.
The Detox Program operates 24/7 for the purposes of providing safe, monitored and managed detox treatment. The typical stay is 3-7 days.  The Registered Nurses and Medical Technicians are the primary caregivers to Detox Program clients. A physician or physician assistant works with Detox Program clients to provide medication management services.   Additionally, the program strives to develop and maintain a rich network of treatment providers for referral after completion of the program to ensure the best possible match for the persons served to ongoing treatment services.  A detoxification/withdrawal management program may be provided in the following settings:  Inpatient, Residential or Ambulatory.
If individuals decide to leave, the staff will perform a referral assessment to provide case management services and referrals to meet a client's immediate needs and inform them of SFRC levels of care in case they choose to seek services in the future.
Click here for more information including intake staff contact information and a checklist of things you may need for the screening.
Positions available, please go to our website:  https://www.sfrecovery.org/careers/
For more information, please contact Yuri Findlay at 505-490-7270 or 505-413-3447.
Fully Accredited Alcohol and Drug Treatment Program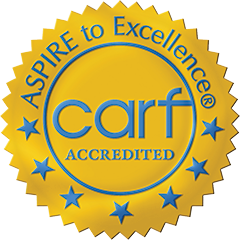 Our CARF (Commission for the Accreditation of Rehabilitation Facilities) accredited treatment programs blend the traditional 12-step philosophy with current state of the art, empirically based treatment practices. Clients experience how the stigma of addiction and mental illness can be overcome through compassionate and cooperative care provided by our community and staff.
*SFRC uses the American Society of Addiction Medicine (ASAM) criteria and the Bio-Psychosocial Model for assessments and programmatic development.
* ASAM criteria consider several different dimensions in the client's life from substance use, mental health conditions, medical conditions, and access to a safe stable living environment. The Bio-Psychosocial Model is a broad view that attributes disease outcome to the intricate, variable interaction of biological factors, psychological factors, and social factors.
Santa Fe Recovery Center services are provided without discrimination due to race, color, sex, age, national origin, disability, religious belief, gender identity, sexual orientation, political affiliation, or inability to pay. Sliding fee discounts for essential services are offered based on family size and income.
---

Los servicios de Santa Fe Recovery Center se brindan sin discriminación por motivos de raza, color, sexo, edad, nacionalidad, discapacidad, creencias religiosas, identidad de género, orientación sexual, afiliación política o incapacidad de pago. Descuentos para los servicios esenciales son ofrecidos dependiendo de tamaño de la familia y de los ingresos.