Santa Fe Recovery Center is a vibrant and multicultural workplace.
Team members take part in fulfilling the organization's mission to work with clients to sustain lasting recovery while treating each client with compassion and respect.
Santa Fe Recovery Center is an equal opportunity employer. Equal opportunity is assured to qualified individuals regardless of their race, color, ethnicity, religion, sex, sexual orientation, gender identity, disability, national origin, ancestry, or age.
All positions require COVID vaccinations, drug screening and criminal background checks including state, federal, and local through the NM Department of Health and Children Youth & Families Department.
To apply for any of our open positions, please click on the link below to view current openings.
Fully Accredited Alcohol and Drug Treatment Program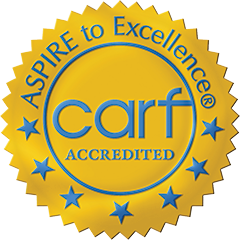 Our CARF (Commission for the Accreditation of Rehabilitation Facilities) accredited treatment programs blend the traditional 12-step philosophy with current state of the art, empirically based treatment practices. Clients experience how the stigma of addiction and mental illness can be overcome through compassionate and cooperative care provided by our community and staff.
*SFRC uses the American Society of Addiction Medicine (ASAM) criteria and the Bio-Psychosocial Model for assessments and programmatic development.
* ASAM criteria consider several different dimensions in the client's life from substance use, mental health conditions, medical conditions, and access to a safe stable living environment. The Bio-Psychosocial Model is a broad view that attributes disease outcome to the intricate, variable interaction of biological factors, psychological factors, and social factors.
Santa Fe Recovery Center services are provided without discrimination due to race, color, sex, age, national origin, disability, religious belief, gender identity, sexual orientation, political affiliation, or inability to pay. Sliding fee discounts for essential services are offered based on family size and income.
---

Los servicios de Santa Fe Recovery Center se brindan sin discriminación por motivos de raza, color, sexo, edad, nacionalidad, discapacidad, creencias religiosas, identidad de género, orientación sexual, afiliación política o incapacidad de pago. Descuentos para los servicios esenciales son ofrecidos dependiendo de tamaño de la familia y de los ingresos.