SFRC provides a broad continuum of care with a wide array of services to ensure a transition from detoxification to long-term recovery
These programs include the Detoxification Program, Men's Residential Treatment and Women and Children's Residential Treatment, Extended Residential Treatment, Regular and Intensive Outpatient, Recovery Housing, Sober Living, and Medication-Assisted Treatment.
SFRC treatment programs include:
Detoxification (Detox)
Medication-assisted Treatment
Men's Residential Treatment
Women and Children's Residential Treatment
Extended Residential Treatment
Recovery Housing
Regular and Intensive Outpatient
Bridge House Sober Living
Clients across all levels of care work with our counselors to develop individualized treatment plans with goals, objectives and interventions for every level of care.
Individual plans are specific to each client's needs during every level of care and are designed to include culturally appropriate interventions for each client. All plans include a discharge plan and a relapse prevention plan.
Each level of care is designed to last for a specific time and provide a specific kind of care. We strive to offer evidence-based, trauma-informed, holistic treatment of substance use disorders with clinical and mental health support and counseling along with:
Case management services
Victim support services
Peer support services
Long-term sobriety and/ or relapse prevention
Nutrition education and food support
Life skills for jobs, education and finances
Family support
Childcare
Transportation
Community building
Fully Accredited Alcohol and Drug Treatment Program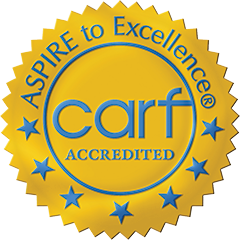 Our CARF (Commission for the Accreditation of Rehabilitation Facilities) accredited treatment programs blend the traditional 12-step philosophy with current state of the art, empirically based treatment practices. Clients experience how the stigma of addiction and mental illness can be overcome through compassionate and cooperative care provided by our community and staff.
*SFRC uses the American Society of Addiction Medicine (ASAM) criteria and the Bio-Psychosocial Model for assessments and programmatic development.
* ASAM criteria consider several different dimensions in the client's life from substance use, mental health conditions, medical conditions, and access to a safe stable living environment. The Bio-Psychosocial Model is a broad view that attributes disease outcome to the intricate, variable interaction of biological factors, psychological factors, and social factors.
Santa Fe Recovery Center services are provided without discrimination due to race, color, sex, age, national origin, disability, religious belief, gender identity, sexual orientation, political affiliation, or inability to pay. Sliding fee discounts for essential services are offered based on family size and income.
---

Los servicios de Santa Fe Recovery Center se brindan sin discriminación por motivos de raza, color, sexo, edad, nacionalidad, discapacidad, creencias religiosas, identidad de género, orientación sexual, afiliación política o incapacidad de pago. Descuentos para los servicios esenciales son ofrecidos dependiendo de tamaño de la familia y de los ingresos.