SFRC offers both regular and intensive Outpatient Treatment Programs
Outpatient Treatment Program clients can engage as outpatients from an initial assessment or by moving from short-term residential, extended residential, or recovery housing.
Types of Outpatient Treatment Programs:
Regular Outpatient Treatment (ROP)
Regular Outpatient (ROP) Treatment is a 12-week program with a typical commitment of 3 hours per week with group meetings on Tuesday and Thursday and two individual therapy sessions per month. SFRC counselors will work with ROP clients to create a flexible program to accommodate the needs of the client. ROP is available in both the Santa Fe and Espanola locations.
Intensive Outpatient Treatment (IOP)
Intensive Outpatient(IOP) Treatment is a 16-week program that provides 9 hours-per-week of services with groups on Mondays and Fridays and a family group on Wednesday. IOP clients also commit to 1-2 individual therapy sessions a week. IOP is available in both the Santa Fe and Espanola locations.
*Individuals engaging in either outpatient treatment program can also engage in Medication-Assisted Treatment.*
"Treat First" Treatment
"Treat First" Treatment program is a New Mexico pilot program which allows SFRC to do 4 outpatient sessions without a Bio-Psychosocial Assessment. Because, typical treatment programs are intensive processes that can upset clients, sometimes client needs go unmet when they first arrive. With "Treat First" Treatment program, we have the ability to ask how we can help a client today and begin with the counseling right away. If it looks like a long-term relationship will be developed, we will do the Bio-Psychosocial Assessment after the 4th session.
We offer outpatient services at both of our locations in Santa Fe and Espanola:
Santa Fe Location:
5312 Jaguar Drive
Santa Fe, NM 87507
(505) 471-4985
(map)
**Monday through Friday
9 AM to 1 PM on a walk-in basis
** Walk-in hours have changed due to COVID-19. Please click here for more information.
Espanola Location:
1302 Calle de la Merced, Suite D
Espanola, NM 87532
(575) 215-0272
(map)
Please call for an appointment.
Monday through Wednesday
9 AM to 4 PM
Outpatient Detox
Coming soon…
Fully Accredited Alcohol and Drug Treatment Program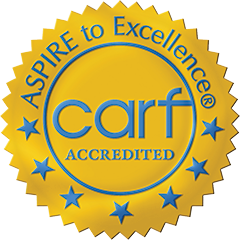 Our CARF (Commission for the Accreditation of Rehabilitation Facilities) accredited treatment programs blend the traditional 12-step philosophy with current state of the art, empirically based treatment practices. Clients experience how the stigma of addiction and mental illness can be overcome through compassionate and cooperative care provided by our community and staff.
*SFRC uses the American Society of Addiction Medicine (ASAM) criteria and the Bio-Psychosocial Model for assessments and programmatic development.
* ASAM criteria consider several different dimensions in the client's life from substance use, mental health conditions, medical conditions, and access to a safe stable living environment. The Bio-Psychosocial Model is a broad view that attributes disease outcome to the intricate, variable interaction of biological factors, psychological factors, and social factors.
Santa Fe Recovery Center services are provided without discrimination due to race, color, sex, age, national origin, disability, religious belief, gender identity, sexual orientation, political affiliation, or inability to pay. Sliding fee discounts for essential services are offered based on family size and income.
Los servicios de Santa Fe Recovery Center se brindan sin discriminación por motivos de raza, color, sexo, edad, nacionalidad, discapacidad, creencias religiosas, identidad de género, orientación sexual, afiliación política o incapacidad de pago. Descuentos para los servicios esenciales son ofrecidos dependiendo de tamaño de la familia y de los ingresos.