Recovery Housing and Sober Living
Recovery Housing and Sober Living Programs
Recovery Housing and Sober Living Programs are not treatment programs, but provide safe, supportive housing for clients in recovery as they get back on their feet. A Recovery Housing client qualifies to move from Extended Residential into Recovery Housing or a Bridge House, both of which provide sober living for SFRC clients beyond residential treatment.
Recovery Housing
SFRC has 9 two-bedroom apartments at the Midtown Campus, formerly the University of Art and Design Campus, for recovery housing. The maximum stay in Recovery Housing is 16 weeks.
Bridge Houses
SFRC operates three residential homes or Bridge Houses in the community. The Bridge Houses are gender specific. Two homes are designated for men. In 2019, SFRC was able to open a Bridge House specifically for women and their children. Because Bridge Houses are more communal, the length of stay is more flexible and clients can stay until they find a different living situation.
To apply for either Recovery Housing or Sober Living Programs, contact admissions at (505) 471-4985.
Anyone accepted has to abide by the rules of the program that include sobriety, 10 p.m. curfew, signing out at every departure and a Breathalyzer upon return, weekly random UAs, regular drug and alcohol testing, and compliance with the rules that the house creates as a group.
Fully Accredited Alcohol and Drug Treatment Program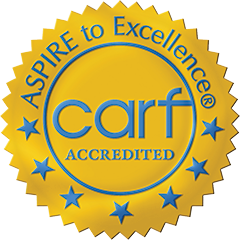 Our CARF (Commission for the Accreditation of Rehabilitation Facilities) accredited treatment programs blend the traditional 12-step philosophy with current state of the art, empirically based treatment practices. Clients experience how the stigma of addiction and mental illness can be overcome through compassionate and cooperative care provided by our community and staff.
*SFRC uses the American Society of Addiction Medicine (ASAM) criteria and the Bio-Psychosocial Model for assessments and programmatic development.
* ASAM criteria consider several different dimensions in the client's life from substance use, mental health conditions, medical conditions, and access to a safe stable living environment. The Bio-Psychosocial Model is a broad view that attributes disease outcome to the intricate, variable interaction of biological factors, psychological factors, and social factors.
Santa Fe Recovery Center services are provided without discrimination due to race, color, sex, age, national origin, disability, religious belief, gender identity, sexual orientation, political affiliation, or inability to pay. Sliding fee discounts for essential services are offered based on family size and income.
---

Los servicios de Santa Fe Recovery Center se brindan sin discriminación por motivos de raza, color, sexo, edad, nacionalidad, discapacidad, creencias religiosas, identidad de género, orientación sexual, afiliación política o incapacidad de pago. Descuentos para los servicios esenciales son ofrecidos dependiendo de tamaño de la familia y de los ingresos.