Donate Basic Items Our Clients Need
Many of our clients both men and women and their children under age 6 come into residential treatment with nothing.
Available resources are stretched thin and your donation can make a big difference.
Clients entering our programs are always in need of some of the most basic items including:
Clothing
Many of our clients, both men and women, enter residential treatment from homelessness or incarceration. Many times, they have no clothing. They are in need of sweatpants, t-shirts, sweatshirts, coats and other clothing to keep them warm and safe. We are also in need of baby clothes as many mothers entering treatment with their children under age 6 have no clothing except what they are wearing.
We kindly request that all donated clothing items be lightly used, clean and folded.
Toiletries
Travel shampoos, soaps and lotions are ideal as they can be distributed to individuals. Next time you return from a trip, consider donating these products. Any hygiene product can make a huge difference. Include items like brushes (hair and teeth), nail clippers, and toothpaste in your donation.
Feminine Hygiene Products
Consider picking some up at the store, buy an extra pack and drop it off at 5312 Jaguar Drive. It can go a long way toward helping the women who are in treatment.
Baby Wipes
Mothers entering residential treatment with their children age 6 and under are in need of baby wipes. Soft baby blankets are also greatly appreciated.
Diapers
Mothers entering residential treatment with their children age 5 and under are in need of diapers for their small children. All sizes of diapers are welcome and in need.
Socks and Undergarments
Socks and underwear for men, women, and children are always needed.
When And Where
To help, you can donate the items listed above or donate money to go towards the purchase of these necessities.
You may drop-off donations of the items listed above Monday through Friday between 1pm and 5pm at the following location.
SFRC Administration Building
5312 Jaguar Drive
Santa Fe, NM 87507
(map)
You can donate money via PayPal, on our Facebook page using the donate button or by sending a check or money order to: Santa Fe Recovery Center, 5312 Jaguar Dr., Santa Fe, NM, 87507.
Fully Accredited Alcohol and Drug Treatment Program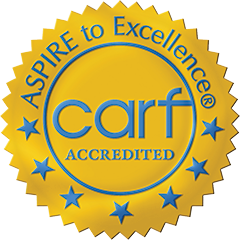 Our CARF (Commission for the Accreditation of Rehabilitation Facilities) accredited treatment programs blend the traditional 12-step philosophy with current state of the art, empirically based treatment practices. Clients experience how the stigma of addiction and mental illness can be overcome through compassionate and cooperative care provided by our community and staff.
*SFRC uses the American Society of Addiction Medicine (ASAM) criteria and the Bio-Psychosocial Model for assessments and programmatic development.
* ASAM criteria consider several different dimensions in the client's life from substance use, mental health conditions, medical conditions, and access to a safe stable living environment. The Bio-Psychosocial Model is a broad view that attributes disease outcome to the intricate, variable interaction of biological factors, psychological factors, and social factors.
Santa Fe Recovery Center services are provided without discrimination due to race, color, sex, age, national origin, disability, religious belief, gender identity, sexual orientation, political affiliation, or inability to pay. Sliding fee discounts for essential services are offered based on family size and income.
---

Los servicios de Santa Fe Recovery Center se brindan sin discriminación por motivos de raza, color, sexo, edad, nacionalidad, discapacidad, creencias religiosas, identidad de género, orientación sexual, afiliación política o incapacidad de pago. Descuentos para los servicios esenciales son ofrecidos dependiendo de tamaño de la familia y de los ingresos.